Cleopatra's Journey by Iain Macdonald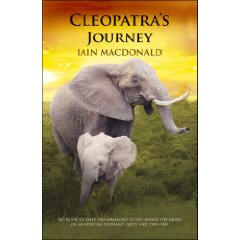 https://www.facebook.com/pages/Cleopatras-Journey/541301562567559


CLEOPATRA'S JOURNEY: ISBN number 978-1-4251-2566-2

Trafford Publishing
2333 Government Street, Suite 6E,
Victoria, BC, Canada V8T 4P4
Phone: 250-383-6864
Toll-Free: 1-888-232-4444 (from Canada & USA)
Fax: 250-383-6804

Ian Macdonald is one of Southern Africa's leading conservationists. Currently practicing as an independent environmental consultant, he was previously Director of Conservation and then Chief Executive of WWF South Africa (WWF is known as World Wildlife Fund or World Wide Fund for Nature). For 31 years he worked as an ecologist and nature conservator (Zimbabwe, Southern Kalahari, Hluhluwe-Umfolozi Park in Zululand, and throughout southern Africa while at the University of Cape Town prior to joining WWF). His doctoral studies on biological invasions took him to several oceanic islands and he has studied nature on all the inhabited continents. An experienced lecturer, his hobbies include bird watching, snorkeling on coral reefs, sea swimming, scuba diving, hiking, reading and good cinema. Married to Susan Alison Macdonald, he has three grown-up sons. He holds four university degrees and has researched and published extensively in the fields of range management, ornithology, biological invasions, desertification, game park management, global climate change and, most recently, in nature conservation management. He is a member of numerous professional organizations and boards, and has been President of the Southern African Institute of Ecologists and Environmental Scientists, Vice President of the Wildlife and Environmental Society of South Africa, Chairman of the South African National Committee of the World Conservation Union (IUCN) and Vice Chairman of the Invasive Species Specialist Group of IUCN's Species Survival Commission. He has chaired several boards such as those of The Table Mountain Fund, The Green Trust and the Leslie Hill Succulent Karoo Trust.
Ian Macdonald ist ein im südlichen Afrika zu den führenden Naturschützer. Derzeit üben als unabhängige Umwelt-Berater, er war zuvor Director of Conservation und dann Chief Executive des WWF South Africa (WWF ist bekannt als World Wildlife Fund oder World Wide Fund for Nature). Für 31 Jahre arbeitete er als Ökologe und Natur Konservator (Simbabwe, Süd-Kalahari, Hluhluwe-Umfolozi-Park in Zululand, und im gesamten südlichen Afrika, während an der Universität von Kapstadt vor seinem Eintritt bei WWF). Seine Promotion über die biologische Invasionen führte ihn zu mehreren ozeanischen Inseln und er hat die Natur auf allen bewohnten Kontinenten. Ein erfahrener Dozent, seine Hobbys sind Vogelbeobachtung, Schnorcheln an den Korallenriffen-, See-Schwimmen, Tauchen, Wandern, Lesen und gute Kino. Verheiratet mit Susan Alison Macdonald, er hat drei erwachsene Söhne. Er hat vier Hochschulabschlüssen und hat recherchiert und veröffentlicht umfassend in den Bereichen der Auswahl-Management, Ornithologie, biologische Invasionen, Wüstenbildung, Wildpark-Management, die globale Klimaveränderung und zuletzt, im Naturschutz-Management. Er ist Mitglied zahlreicher Berufsverbände und Bretter, und wurde Präsident der Südafrikanischen Institut für Umwelt-und Umwelt-Wissenschaftler, Vice President der wildlebenden Pflanzen und Tiere und Umwelt Society of South Africa, Vorsitzender der South African National Committee of the World Conservation Union (IUCN) und stellvertretender Vorsitzender der Invasive Species Specialist Group der IUCN Species Survival der Kommission. Er hat den Vorsitz führt mehrere Boards wie die der Tafelberg Fund, The Green Trust und der Leslie Hill Sukkulenten Karoo Trust.
Cleopatra is an elephant and matriarch. The journey is her endeavour to keep her precious family alive against enormous odds. All the events contained in this book take place between 1966 and 1994, a tumultuous period for the region. The most tragic event was the demise of the rhino due to commercial poaching. The same people who killed the rhino went on to decimate the elephant. Cleopatra's story of survival weaves in and out of these events. The main characters are based on real people. Amanda Stockdale is an ecologist collecting data for a report which will decide the fate of thousands of elephant, in particular Cleopatra her favourite. Mwenda Mbao is a traditional hunter turned poacher who cannot reconcile his strong traditional beliefs with the demands of commercial poaching. Ben Phiri is his stepson who has no such qualms. Johnnie Pascoe is Amanda's friend and protector. He is a professional hunter who dislikes hunting. When Amanda presents her report detailing the damage the elephant are causing to the riverine vegetation she never believes she will see ever Cleopatra alive again. The cull that follows her report will destroy her study group and thousands of other elephant. She is faced with a terrible dilemma. How does Cleopatra anticipate the crisis and lead her family to safety? How does Amanda make it back to her camp one night when her attempt to reach the culling camp fails? Much later when Amanda is living in another country Cleopatra arrives unexpectedly. What is it that brings these two old friends together? Cleopatra's nine hundred mile journey leads her from Zambia to Malawi, then to Zimbabwe, and finally to the Chobe National Park, Botswana.

Kleopatra ist ein Elefant und Matriarchin. Die Reise ist ihr bemühen, um ihre kostbaren Familie lebendig gegen enorme Chancen. Alle Events, Veranstaltungen, die in diesem Buch finden zwischen 1966 und 1994, eine bewegte Zeit für die Region. Die meisten tragische Ereignis war der Niedergang der "Rhino durch kommerzielle Wilderei. Die gleichen Leute, die die rhino getötet ging auf dezimieren die Elefanten. Cleopatra's Geschichte von Überleben webt in die und aus dieser Ereignisse. Die wichtigsten Zeichen sind auf der Grundlage von echten Menschen. Amanda Stockdale ist ein Ökologe Erhebung von Daten für einen Bericht, entscheidet das Schicksal von Tausenden von Elefanten, insbesondere Cleopatra ihren bevorzugten. Mwenda Mbao ist ein traditionelles Jäger wandte Wilddieb, die nicht die Vereinbarkeit von seiner starken traditionellen Überzeugungen mit den Anforderungen der kommerziellen Wilderei. Ben Phiri ist sein Stiefsohn, der hat keine solchen Skrupel. Johnnie Pascoe ist Amanda's Freund und Beschützer. Er ist ein professioneller Jäger, die Jagd nicht mag. Wenn Amanda stellt ihr Bericht über die Schäden der Elefanten führen zu der Fließgewässer Vegetation sie nie ist der Ansicht, sie werden sehen, je Cleopatra wieder lebendig. Die Keulung folgt, dass ihr Bericht wird zerstören ihre Studie Gruppe und Tausende von anderen Elefanten. Sie ist vor einem schrecklichen Dilemma. Wie funktioniert Cleopatra davon aus, dass die Krise führen und ihre Familie für die Sicherheit? Wie funktioniert Amanda machen, zurück zu ihrem Camp ein Nacht, wenn sie versuchen zu erreichen, die Keulung Camp nicht? Viel später, wenn Amanda lebt in einem anderen Land Kleopatra kommt unerwartet. Was ist es, bringt diese zwei alten Freunden zusammen? Cleopatra's neunhundert Meilen Reise führt sie von Sambia zu Malawi, dann nach Simbabwe, und schließlich an den Chobe National Park, Botswana.